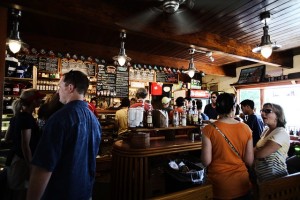 After a long, tiring day at work, coming home to a well-lit home can make all the stress melt away. The right lighting in your Scottsdale home has the ability to create drama and warmth, enhancing the appearance of textures and surfaces and bringing attention to focal points or pieces of art in a living space. Sometimes, the lighting fixture itself can be a work of art.
This approach is what makes coffee shops appealing to patrons. If you go to a coffee shop like Starbucks, you'll notice that lighting is one of the factors that makes the interior look cozy and inviting. Interior designers like to take a holistic approach to design, evaluating how each component in a living space complements the overall design idea. It just so happens that lighting plays a critical role as a design element, capable of greatly enhance an environment.
What makes coffee shop lighting great is that designers often use residential style lighting to evoke feelings and emotions of coziness and comfort. That means you can easily get the same effect at home using floor lamps, track lights, recessed lights, and spotlights among others.
Here are 5 ways to do just that.
1. Use energy-efficient lighting like LEDs
More and more coffee shops are switching their incandescent bulbs and halogen lamps to LED lighting in an effort to save energy. In 2010, Starbucks switched all of their old lights to LEDs, helping reduce power consumption and save energy. LEDs are also great because they come in an assortment of color temperatures, so you can easily find warm or cool LED lights depending on your needs.
2. Use natural light as much as you can
In the daytime, take advantage of natural light as much as possible. Coffee shops and cafes do this by having large windows, mirrors, and skylights, all of which help bring sunlight through a space. At home, you can get the same effect by adding light/sheer curtains, mirrors, and decorative pieces with reflective surfaces.
3. Layer your lighting
Layering your Scottsdale home's lighting means using different types of light sources in one space. These are:
General lighting
Task lighting
Focal lighting
Sunlight
Having different light sources lets the space cater to a wider variety of tasks and activities, regardless of the time of day.
Treat light fixtures as art pieces
A light fixture in itself can sometimes make a dramatic statement, acting as focal points in a room. Such fixtures include elaborate chandeliers, pendant lights (especially when arranged in rows), and sconces. Don't underestimate the impact a light fixture can make in a room.
Use dimmers to control lighting
As the sun sets, your Scottsdale home's lighting should also transition from day to night. Many cafes and coffee shops that serve customers in the evenings use dimmers hooked to specific light fixtures to make spaces feel and look more intimate. You can even use your lights to "tell a story," shining light on particular areas you want people to notice—such as paintings, the dining table, mantels and more.
So what are you waiting for? Try out this interior designer-recommended guide on setting up your home lighting, and see how these tips work out for you.