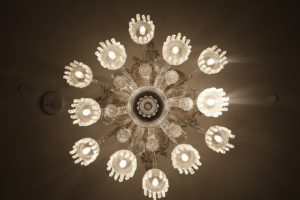 When it comes to adding style and glamour to your Scottsdale home, nothing does it quite like a chandelier. Although it's as traditional as you can get with home décor, the timeless appeal of shimmering crystals or wrought iron makes a chandelier a great decorative piece in any home, regardless of its interior design and furnishings. And because all chandeliers with light bulb sockets are compatible with your standard LED light bulb, you can rest assured you won't blow up your monthly electricity bill by having them in your home.
If you think chandeliers are boring and old, here are a few home lighting ideas using these fixtures that might change your mind.
1. Hang a Chandelier Over Your Bathtub
If you want to add a touch of romance, whimsy, and drama to your bathroom, a chandelier will do that and then some. Most people don't really think hard about what light solutions to use in their bathroom, but if you have a lazy tub you'd like to spend more time in, the chandelier should add flair and style to what may be an overlooked space in your Scottsdale home.
2. Use It as a Focal Point in Your Kitchen
A small chandelier will not look out of any place in any kitchen. If you have an island, hang a chandelier over it to complement your kitchen's focal point, while at the same time showering light over a busy area for cooking and food preparation.
3. Glam Up Your Bedroom with a Chandelier
A chandelier in a bedroom probably conjures up images of a four-poster bed in some castle, but it doesn't have to be that way. There are just as many contemporary chandelier styles as there are traditional ones. For a dash of romance in your bedroom, choose a chandelier with crystal pendants, which will create fascinating reflections all over the room.
4. Hang Small Chandeliers Over the Bedside Tables
If you have a large bedroom, hanging a small chandelier above each of your side tables is another way to get the dramatic effect of hanging a large fixture over your bed. Chandeliers don't have to be in the center of your home; don't be afraid to mix things up by hanging them in unusual areas and corners.
5. Go Traditional by Hanging a Chandelier in Your Dining Room
The dining room is perhaps the safest and most obvious place to hang a chandelier in your Scottsdale home. If anything, you should take this as a challenge to do something a little more different and unexpected. For example, instead of using one large chandelier, try using 3 chandeliers arranged in a row from end of the table to the other.
6. Add Character to Hallways with Chandeliers
Not much happens in hallways, so try to make the walk from room to room a little more interesting with a chandelier and perhaps a few decorative pieces like paintings and photographs.
Bottom Line
Chandeliers are great decorative pieces to have in any home, coming in a wide variety of styles and sizes. If you want to go for super elegant pieces, then look for chandeliers laden with crystals and beautiful trim. For minimalist and urban homes, a contemporary chandelier will fit right in.