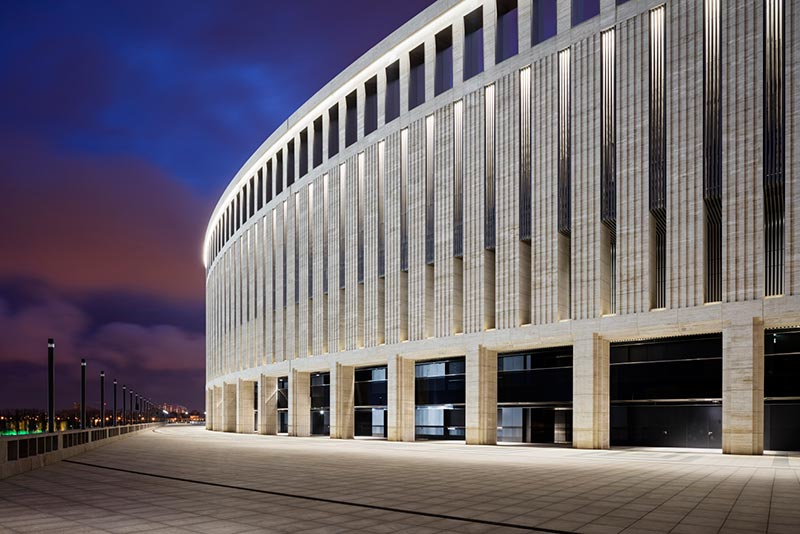 For most Scottsdale businesses, the thought of investing in an architectural lighting plan might seem a bit extravagant. After all, you're not running a museum or nightclub, so why does your building need to have any aesthetic lighting at all?
LED architectural lighting can add dimension, color, and stature to buildings of all sizes. Effective architectural lighting can transform the appearance of any structure, adding big visual impact. When designed properly, architectural lighting can also make a building safe and well lit for all its users.
In this guide, we're going to take a look at some of the architectural lighting trends that are becoming popular in Scottsdale.
Re-Thinking Commercial Exterior Lighting
The first step in creating an exterior lighting plan is to define your goal. If a business wants only to increase safety and security, then industrial exterior lighting around doors, pathways, and parking areas might be sufficient.
But if a business is looking to add visual impact or draw attention to a specific feature, then architectural LED lights should come into play. Selecting the correct combination of LED equipment will ensure that you won't only get the aesthetic look you're going for, but also the big efficiency increases that LEDs are famous for.
Of course, the biggest goal for any facility investment is that it enhances the bottom line. An attractive, memorable exterior lighting scheme can do just that, acting as an over-night advertisement for your organization's distinctiveness, creativity, ingenuity, or all three.
Using Architectural Lighting to Highlight Individual Features
Up-lighting is one interesting way to highlight a specific architectural feature or landscape element. This is where an industrial LED light is places on the ground and pointed upwards at a sign or architectural detail. Modifying the angle and color of the light can create dramatic effects, even with a single light.
By pointing an LED flood light at the back of an architectural element, it is possible to create a striking silhouette. This can add dimension to even the most basic of buildings and landscape features.
Using Low-Angle Exterior Lighting to Highlight Building Textures
If your building has unique textural elements like brick, reclaimed wood, or other non-flat surfaces, a low-angle LED flood light can bring those elements to the forefront. This technique is sometimes known as wall grazing, the opposite being wall washing where the surface is directly and entirely illuminated.
Choosing the Right Commercial LED Light Bulbs for Architectural Lighting
Over the course of the last decade, industrial LED lighting equipment has become more efficient, less expensive, and easier to install. This combination has allowed LED systems to become more and more prevalent across the United States, with Scottsdale taking a big role in leading the charge.
But like any other LED lighting plan, selecting the right equipment is key. Remember that with LEDs, the cheapest bulb or fixture on the market is probably not going to be the one that saves you the most money. For best results, consult with an energy efficiency consultant before you invest.