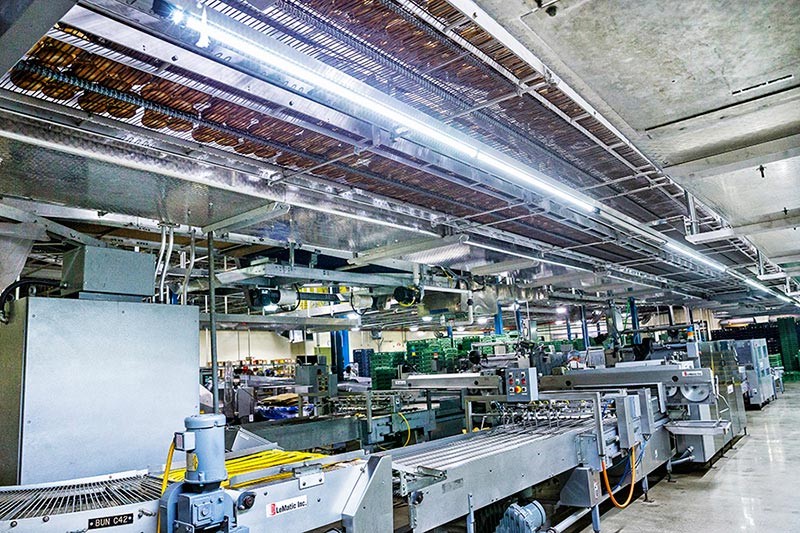 Whether your company is in processing, manufacturing, retail, or anything else, having an adequate amount of light is paramount to both safety and productivity. But food processing business have a special set of needs when it comes to overhead lighting.
Specifically, food processing companies need lighting systems that will not only provide ample, reliable light, but will also help keep the facility free from contamination.  In addition, many food companies require advanced lighting systems that can work inside of coolers, walk-ins, and freezers.
In this guide, we're going to explore some of the primary considerations a food processing company should make when designing a commercial LED lighting system.
Commercial LED Lights for Employee Safety & Productivity
Every facility is going to have different optimum illuminance levels. In manufacturing and processing of all kinds, establishing an ideal level of brightness is necessary to maximize both the safety and productivity of your workers.
Food processing centers are full of sharp knives, spinning mixers, razor-sharp slicers, and other implements of culinary destruction. It is absolutely essential to make sure these areas are property lit. The most important result is that it will reduce accidents, but it could also lead to more uniformity across production runs.
Better lighting has also been linked to increased employee concentration and task accuracy, two things that will directly affect your bottom line.
Overhead LED Lights to Protect from Contamination
Food products intended for consumption must be strictly protected and monitored at all stages of production to make sure that the product is not spoiled with bacteria, cleaning products, or even dangerous debris like glass shards.
The best commercial LED lights for food facilities are designed to help out with a lot of these problems. The first thing that you want to look for is fixtures with hose-down capabilities. These components are designed to keep dust and moisture out of the interior. This makes it possible to simply hose them down between shifts to keep the facility clean.
Look for components that are either IP69K Certified or NEMA 4x Rated to make sure that you're getting something that is truly waterproof. In addition, the National Sanitation Foundation (NSF) certifies a number of LED overhead lights for kitchens and food production centers. NSF Certified LED fixtures are glass-free, mercury-free, corrosion resistant, and made entirely with non-toxic materials.
Commercial LED Lights for Low-Temperature Performance
While fluorescent lights experience significant difficulty operating at low temperatures, LEDs do not have such weaknesses. In fact, LED bulbs are able to thrive in cold temperatures, even lasting longer than they would at normal ambient temperatures.
This increased operating efficiency also makes LEDs a lot brighter than fluorescents at cold temperatures. This means that switching a cold storage area to LED lighting can allow you to reduce the overall number of fixtures that you're running.
Choose Quality Commercial LED Components
Perhaps the most important consideration for foodservice companies to consider is the overall quality of the components being used. High-quality LED products not only last longer, but tend to be more energy efficient, greatly reducing the cost of building ownership.