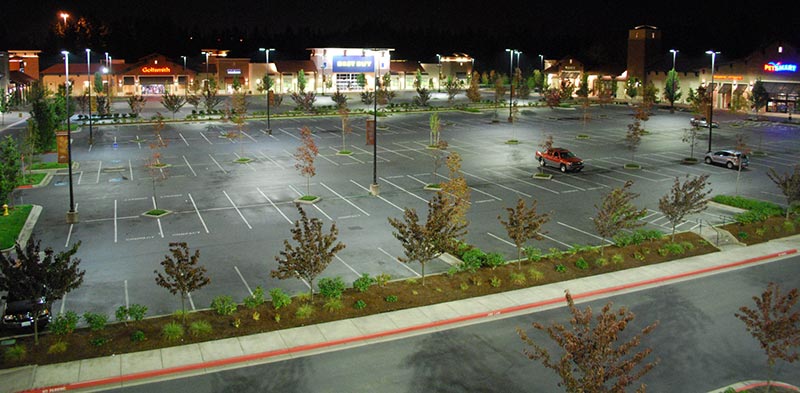 For years, most commercial and industrial parking areas have been illuminated by HID (high energy discharge) lighting. In fact, if you've purchased a facility of any type in the last few decades, there is a very high chance that it came with HID lights for the parking lot.
It makes sense that very few businesses upgrade their parking lot lights to LEDs, then. After all, why fix something that isn't broken?
Here's the thing: Not only are HID lights a huge waste of electricity (and therefore $$) they're also doing a poorer job of keeping your parking lots safe, illuminated, and stylish. In this blog, we're going to look at the benefits of upgrading parking lot lights to LED, as well as some of the big benefits that can come as a result.
The Problem with HID Lighting in Commercial Parking Lots and Parking Structures
Simply put, HID lighting is an outdated technology, and with LED as a replacement, there is no reason that anyone should stick with HIDs.
But there are some more specific reasons that upgrading to LED can be beneficial, including:
HIDs are only 20% as energy efficient as LEDs. Seeing as how parking lot lights are usually left on for ~ 12 hours, lighting your parking lot with HID bulbs could be costing your company a fortune.
HIDs produce a more intense, buzzing glare. This type of lighting is anything but aesthetically pleasing. Switching to LEDs gives companies more control of the 'look' of the parking lot, which is often where customers and clients get their first impression.
On the other hand, LEDs use less electricity, create more high-quality lights, and don't have to be replaced as often.
With Parking Lot Lighting, It's the Maintenance That Will Get You
Swapping out light bulbs in your commercial parking lot isn't as easy as grabbing a stepstool and a bulb out of the closet. In most cases, these lights are not only high off the ground, but they're also housed in industrial casings and guards. Most companies have to pay someone to make the rounds and change out dim or dead bulbs.
With LED parking lot lights, you won't have to change them out nearly as often. The result is that your maintenance costs will go way down, and you won't have to buy bulbs nearly as often.
How to Choose LED Lighting for Parking Lots
Today, LED fixtures and bulbs are available in all the same styles, colors, and brightness levels as traditional industrial lot lighting. This means that you can replace your area lights, wall packs, walkway lighting, flood lights, and dusk-to-dawn-lights and maintain your current aesthetic.
Or, choose something new, taking advantage of the unique versatility of LEDs.
One of the keys to lighting a parking area is to balance brightness and visibility with style and aesthetics. You want a CRI of 80 or higher to ensure accurate color rendition and increase safety and security. But at the same time, you need lights that can provide that level of CRI without too much glare. In this case, LEDs fit the bill perfectly.
When you're ready to upgrade your parking areas to energy-efficient, long-lasting LEDs, contact your certified lighting professional to make sure that it gets done correctly.